Brief introduction into Public BGP Looking Glass servers and how to use them to troubleshoot real-life issues. 
One of the most common tasks performed by BGP administrator is troubleshooting of prefix propagation over the Internet. You might have originated a prefix advertisement from within your Autonomous System, but was this prefix accepted by your Upstream Peers? If it was, did your Transit peers propagate this information to the global Internet, or did the prefix get lost or summarized somewhere within their networks because you might set a wrong community? Is it possible that your prefix has been hijacked by somebody else?
Public Looks Glass (LG) and Router-Servers (RS) allow you to get an answer to these questions in a matter of seconds.

Looking Glass vs Route-Server
We mentioned both Looking Glass and Route-Servers without explaining what it is. Looking Glass and Router-Servers are systems that provide BGP view to the public. The major difference is that Looking Glass servers provide this view via Web Interface, while Route-Servers require telnet access.
How to Use Looking Glass & Route-Servers?
The following example would illustrate how to use LG/RS. Let's assume that your company started advertising prefix 46.219.1.0/24 to upstream providers and you want to know if it has been propagated. Pick a few Looking Glass servers from the list below and start digging.
I decided to use Sprint's Looking Glass in California:

Telecom Italia's Server in Rome

Orange's Looking Glass in Singapore: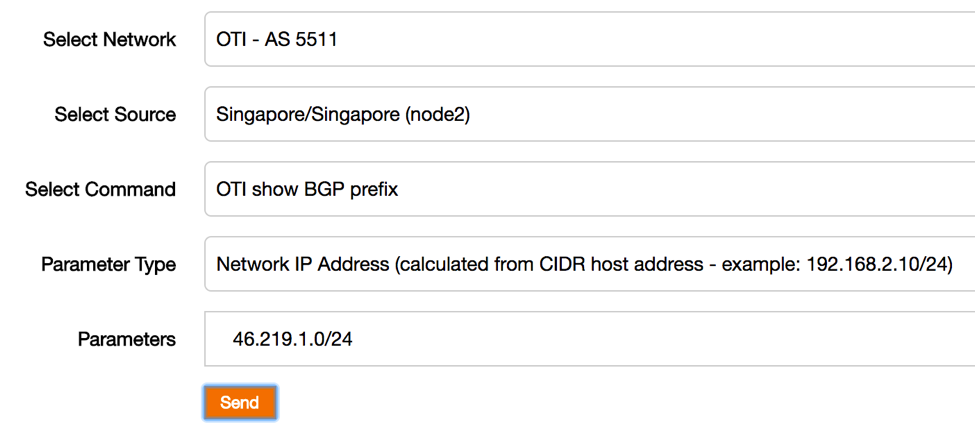 By doing prefix lookup at three Tier 1 Providers' Looking glass servers on three continents while getting consistent view, you can achieve some comfort level. By 'consistent view' we mean that the prefix with the same prefix length (/24 in our example) is present everywhere and the Origin AS (AS 31148) is the same. You should also check AS Path to make sure there are no unexpected AS Numbers in the path attribute.
In our example, we got the following data from Sprint:

Telecom Italia:

Orange: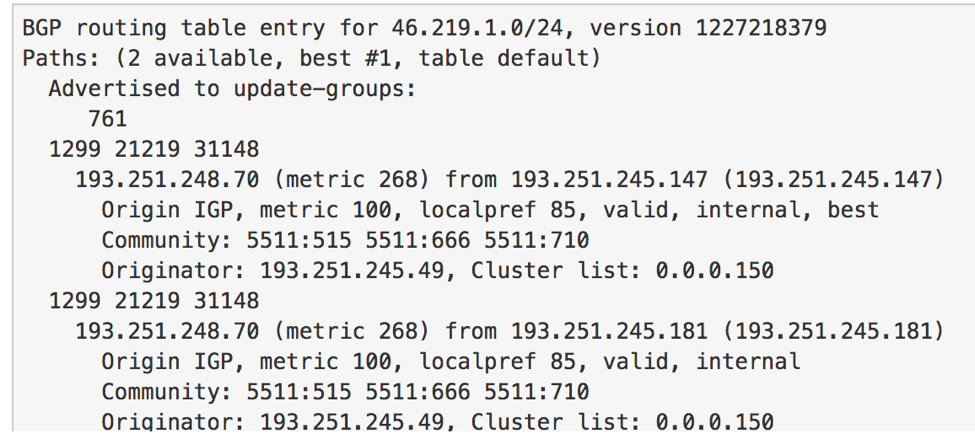 As you can see, 46.219.1.0/24 is originated from AS3118. Quick 'whois' lookup will reveal that Datacom (AS21219) and TopNet (AS21011) are used as Transit Providers. BGP path to Telecom Italia via TopNet is prepended.
Tier 1 BGP Looking Glass
Tier 1 ISPs Looking Glass Servers are listed below
ASN
Name
IPv6
Region
7018
AT&T
209
CenturyLink (Savvis)
–
NA
3320
Deutsche Telekom
+
EU, NA
1
3356
3549
Global Crossing
+
EU, NA
6453
Global Telecom & Technology (GTT) / Tinet & nLayer
+
AS, EU, NA
286
KPN International
+
EU, NA
6830
Liberty Global
2914
NTT America
+
AF, AS, AU, EU, NA
5511
3215
2300
Orange / Open Transit
–
AF, AS, AU, EU, NA
1239
Sprint
+
AF, AS, AU, EU, NA
6453
Tata Communications (Abovenet)
+
AF, AS, AU, EU, NA
6762
Telecom Italia (Seabone)
+
AS, EU, NA
1299
TeliaSonera
+
AF, AS, AU, EU, NA
701, 702, 703
Verizon (UUNet/ XO Communications)
6461
Zayo Group
+
EU, NA
For complete list of servers please refer to
https://www.bgp4.net/doku.php?id=tools:ipv4_looking_glasses
Tier 1 BGP Route-Servers
AT&T: telnet://route-server.ip.att.net
Global Crossing: telnet://route-server.eu.gblx.net